OC Transpo
2011 Business Plan
Document 2
Presented to Transit Commission on
Wednesday, February 16, 2011

The information contained in this document is sections 2.1, 2.5 and 2.7 of the 2011 Business Plan.  The information has been included as a separate document to align with the recommendations of the Business Plan report and to allow Transit Commission and Council to consider the information as part of the 2011 Budget process.
2.1 Fleet Plan
OC Transpo maintains a multi-year fleet plan for the acquisition, refurbishment and retirement of buses.  The plan sets out long-term capital costs to ensure high availability of vehicles and efficient use of maintenance resources.  The fleet plan is based on projected ridership changes, expected opening dates of new rapid transit projects, and options for the provision of system capacity with different bus types.
In 2010, the decision was made to renew the articulated bus fleet by purchasing 306 new articulated buses.  This allowed the retirement of 226 inefficient and problematic older articulated buses, creating substantial improvements in reliability and fuel economy.  This renewal moved forward the planned date of replacement of those buses and changed the fleet plan by eliminating the need for refurbishment of many older buses.  All of these new buses are expected to be in service by March 2011.  Customers are already receiving the benefits of improved comfort, higher reliability, and higher capacity on some busy trips.  The acquisition of these buses has resulted in significant financial savings already incorporated in Budget 2011.  The cost of financing these new buses has been more than offset by associated savings in fuel and maintenance of more than $9 million a year.
The current fleet plan extends from 2011 until 2030, and includes the bus savings from the planned network optimization in 2011.  It also includes a reduced requirement for buses enabled by the opening of new sections of Transitway where faster operation requires fewer buses. Further, and as highlighted in the graph below, it anticipates the opening of sections of the light rail system where trains replace buses and requirements for buses to serve expected ridership growth and expanded service to meet that growth.
Table 2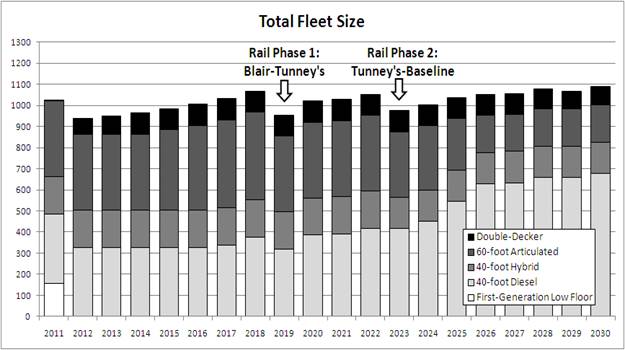 Double-Deckers
In 2009 and 2010, OC Transpo tested a small fleet of three double-decker buses.  These buses have proven to be highly successful, especially for operation on long-distance express routes during peak periods and are well suited for future feeder routes planned for implementation at the opening of the new light rail line through the downtown core.
The chief advantage of double-decker buses is that they can carry more customers – and include more seating – than any other bus type, at approximately the same capital cost as an articulated bus and in the same road space as a 40-foot bus.  Details of the results of the trial are in Document 3 to this report.  
In today's system, OC Transpo uses a 45 person standard for a 40 foot bus and a 70 person standard for an articulated bus.  The APTA peer review indicated that this standard is low relative to transit systems in comparable cities, leading to higher operating costs per customer.  Consideration has been given to moving this standard up to 50 persons for a 40 foot bus and 77 for an articulated bus as such a change would save approximately $1.9 million a year in operating costs.  This would, however, also result in more buses on express routes arriving full during peak periods than customers experience today.  Moving now to upgrade older 40 foot buses with double-decker buses would eliminate the need to change this standard, and provide a more comfortable ride for our customers along with additional system benefits.  It will also produce better efficiencies saving approximately five times as much annually than increasing crowding standards.
The Transit Commission will be presented in April 2011 with a detailed lifetime business case for the purchase of approximately 75 double-decker buses to replace the oldest, lowest-capacity buses in the fleet.  This purchase will result in significant lifecycle savings as well as specific immediate efficiencies.  It will allow for substantial operating cost savings, as the same number of customers would be carried on fewer buses, and long-term capital cost savings, as there would be fewer buses in the fleet.
Based on the results of the pilot, the new double-decker buses would be assigned primarily to busy, long-distance express routes, where customers would benefit the most from the increased seated capacity that double-deckers have.  On an articulated bus operating at capacity, 20 per cent of the customers need to stand, but on a double-decker bus operating at capacity, only nine percent of the customers need to stand.  The articulated buses currently on express routes would then be assigned to Transitway and main-line routes, where they would replace 40-foot low-floor buses.  Those 40-foot buses would then move to the local routes where they would replace the retired first-generation low-floor buses.
The first generation low-floor buses, acquired between 1997 and 1999, have disadvantages for customers in that they have only a small number of seats and restricted standing area.  They also have many advantages for transit operation because existing buses cannot be assigned to anything other than the lowest-ridership routes, have relatively poor availability, and present high maintenance costs.
The use of double-decker buses may also reduce the capital cost of building the terminal stations for the light rail line. Double-decker buses take up less space than articulated buses and provide the same capacity with fewer trips, reducing the platform and staging space required.
Double-decker buses can also be a vital part of operations during light rail construction, where there will be a need to acquire a large number of buses to temporarily increase the fleet size during the construction period (as outlined in Section 3).
The 158 first-generation low-floor buses in the fleet would be replaced by approximately 75 double-decker buses.  This reduction in fleet size could create an estimated $10 million in operating cost savings per year with a full year financing cost of approximately $4 million. Overall the replacement of older 40-foot buses with double-decker buses could provide between approximately $2.5 million in 2012 operating savings net of costs of advancing the purchase.  These net savings grow to approximately $6 million annually from 2013 to 2015 with the full $10 million savings in annual operating costs enabled by these new buses being realized in 2016.
Table 3
Double-decker bus acquisition net savings:
| | | | | | |
| --- | --- | --- | --- | --- | --- |
| | 2012 | 2013 | 2014 | 2015 | 2016 |
| Savings | $2.5 M | $10 M | $10 M | $10 M | $10 M |
| Cost to Acquire | $ 40 M | | | | |
| Financing Cost over Base Case | $ 0 | $4 M | $4 M | $4 M | 0 |
| Net savings | $2.5 M | $6 M | $6 M | $6M | $10 M |
The Transit Commission will be presented with the business case for a plan to purchase double-deckers to replace the oldest, lowest-capacity buses in the fleet and drive these efficiency savings.  As part of this Business Plan estimates of the required supplementary Capital authority, funded entirely from operational savings, have been tabled for inclusion in Budget 2011.  To achieve the estimated savings, the procurement procedure would need approval by May 2011 so that the new double-decker fleet could be delivered and operating by August/September of 2012.
Over the next two years, comprehensive improvements to the maintenance system will continue, including changes to the supply chain and measures to boost productivity.   A move to vendor-managed inventory and point-of-use storage will reduce process steps and create efficiencies.  The re-design of the maintenance process along with an enhanced focus on reliability management will enable OC Transpo to maintain high levels of bus availability with a smaller fleet, while reducing capital and operating costs.
2.5 Elimination of Duplication and Delay in the Existing Network
OC Transpo strives to provide quality transit options throughout its service area that are as convenient to as many people as possible.  A balanced system provides attractive transit options to as many customers as possible in an economically efficient way.
The current route network design exceeds the Council-approved policy standards that 95 per cent of the population be within a five-minute walk of transit service during peak periods and within a ten-minute walk at off-peak times. The current network also includes a number of routes which are indirect or which have sections which duplicate other routes. These characteristics stretch the resources of OC Transpo and result in lower productivity and higher costs. These inefficient parts of the route network are not only costly but also little-used by customers. Applying the norms and best practices of more-efficient transit systems will reduce costs significantly without reducing system ridership.
Budget 2011 calls for this network inefficiency to be addressed and for an improved network design to be implemented.  The vast majority of transit users will experience either no change or an improvement in the overall service they use through better reliability and more direct routing.  Only about 6 per cent of daytime off-peak transit users would have a slightly longer walk to the bus, and in most of these cases, the walk would be limited to one or two additional blocks.  At peak periods about 1 per cent of transit users would have a longer walk to the bus.
Approximately 94 per cent of transit users would see no change at all but would gain the benefit of shorter travel times through more direct routes.  In 2011, network optimization efforts will aim at meeting the existing Council-approved policy standard of 95 per cent of urban households within a 5-minute walk.
 The customer's travel experience is made up of a number of elements:
1. The time it takes to walk to a bus stop;
2. The time it take to wait for a bus;
3. In-vehicle travel time;
4. The number of times as transfer needs to be made; and
5. Overall reliability of service.
Though most of the possible route changes described below would increase walking distance or would increase the number of transfers, many of the customers who are affected by those changes would also receive the benefits of a shorter waiting time and a shorter in-vehicle travel time.
While modest, these changes to the route network will dramatically improve productivity.  These benefits would come at a significantly lower cost than the existing network design, will reduce upward pressure on fares and taxes, and will put the transit network on a sustainable footing that is consistent with the proposed budgets for 2011 and future years.
As mentioned, there would be no change in the crowding standard for buses as a result of the move to double-decker buses.  The carrying capacity of routes would remain the same with more seats available reducing the need for customers to stand. Changing the crowding standard is avoided because it would primarily affect customers on the busiest routes, it would substantially reduce service quality on those routes, and it would reduce the reliability of service and increase the likelihood of customers being left behind at stops.
Where routes are being consolidated, the combined routes will operate more frequently than they do today to provide sufficient capacity.  At certain times of day, or in areas with lower ridership, frequencies will remain the same as today, as the additional ridership can be accommodated within the existing capacity.
OC Transpo will continue to extend the route network into new areas as they are developed. In fact, in 2011, there are some newly-built areas of the City which already warrant route extensions.  These expansions will also be incorporated as part of the revised network.
2.5.1 Unchanged Routes / Enhanced Routes
The vast majority of customers' trips will remain exactly as they are today with no change. Some of these trips will be enhanced through greater frequency on routes or with larger capacity vehicles such as double-deckers and articulated buses.  Due to the length and capacity of these buses, we will be able to better accommodate peak ridership while alleviating some congestion through the downtown core.
Bus routes expected not to change or to receive enhanced service include: the O-Train and Routes 1, 2, 7, 8, 14, 15, 20, 21, 22, 24, 27, 33, 35, 38, 60, 61, 66, 67, 68, 69, 70, 71, 73, 76, 77, 86, 87, 94, 95, 96, 98, 99, 114, 118, 122, 123, 124, 126, 128, 135, 146, 148, 157, 164, 170, 172, 173, 176, 177, 183, 184, 186, 187, 189, 194, 199, 245, 261, 262, and 263.
2.5.2 Elimination of Duplication and Consolidation of Routes
Throughout the City, a number of routes have evolved to cover identical ground for large portions of their journey.  In some other cases, two or three routes run parallel to one another very close together.  These routes will be candidates for consolidation into fewer more efficient routes.  For example, instead of having two under-used buses serving the same customers, the new design will have one better used route.  This category of change will have almost no effect on walking distance to access transit.  Customers will, in most cases, not have any further to walk to get to their bus. 
An example of this type of change is depicted below.  In this example, two express routes in Kanata which serve neighbouring areas would be consolidated into a single route, which would operate more frequently but which would have a lower operating cost because the capacity would match more closely aligned to the actual ridership.
Figure 1 - Current Routes 63 and 64 in Kanata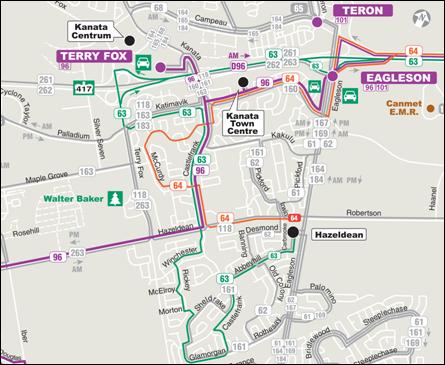 Figure 2 - Possible consolidation into one new Route 63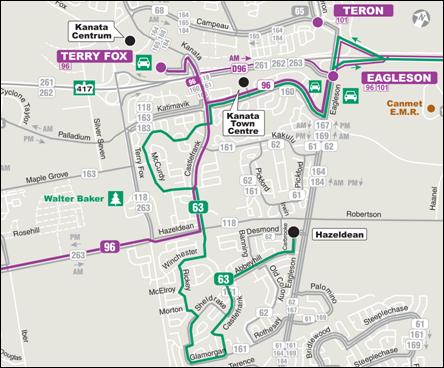 While these changes will mean some adjustment for customers to determine which new route to take for their trip or commute, the result will be almost identical service with the realigned route structure.
Routes under review for consolidation to reduce duplication include: Routes 3, 4, 5, 6, 16, 23, 32, 34, 39, 40, 43, 57, 62, 63, 64, 65, 85, 88, 101, 111, 112, 115, 116, 117, 125, 130, 131, 133, 141, 142, 143, 144, 150, 151, 154, 155, 156, 158, 160, 165, 166, 168, 182, 188, 190, 191, and 316.
Not all of these routes will be combined with other routes.  They are candidates for consultation with customers and consideration by Transit Commission.  In some cases routes listed here will be altered slightly to be able to properly serve customers from discontinued routes that run in parallel to along the same routes.
2.5.3 Removal of Inefficient Local Loops and Crescents
Many of our bus routes take detours down side streets to shorten the walk for particular employment centres and neighbourhoods.  These so-called "milk runs" through local residential and collector streets are very costly to maintain and slow travel times for riders already on the bus. Service would be available by walking a short distance to catch the bus for all of the customers affected by these changes.
An example of this type of change is depicted below. In this example, a local route which now follows a complex route in Overbrook would be changed to follow a simpler and more direct route.  The frequency of service would remain the same, travel times for customers would be reduced, and there would be a cost saving because of the reduction in the distance that buses travel to complete each trip.
Figure 3 - Current Route 18 in Overbrook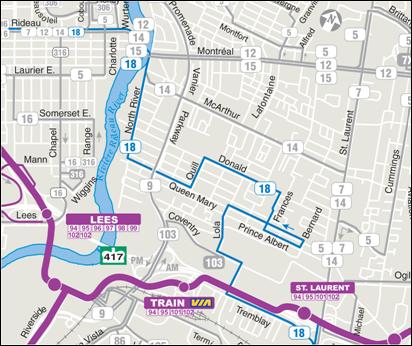 Figure 4 - Possible revised Route 18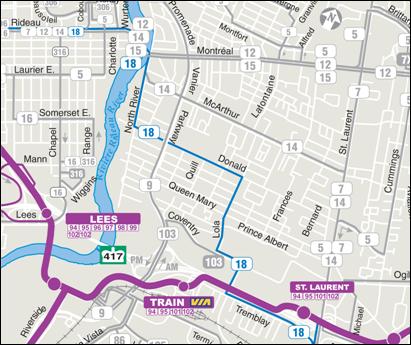 Routes under review for this category include: Routes 5, 18, 31, 37, 101, 102, 179, 221, 231, and 283.
2.5.4 Reduce Hours of Service for Low-ridership Routes or Route Sections
Some routes that have a reasonable number of users at peak times drop off dramatically between peak periods yet continue to run at the same frequency.  Others routes have specific sections with very low ridership. These routes starve the rest of the system of valuable resources that could be better deployed in high ridership areas.  Where ridership at off-peak times is very low, consideration will be given to eliminating off-peak service or to discontinuing service to sections of the route.
An example of this type of change is depicted below. In this example, a local route in Elmvale would be reduced from its current hours of service (6:00 a.m. to 10:00 p.m., Monday to Friday, plus 9:00 a.m. to 6:00 p.m. on Saturday and Sunday) to operate only during peak periods (generally 6:00 to 9:00 a.m. and 3:00 to 7:00 p.m., Monday to Friday).  During peak periods, the route would run at the same frequency as today (every 15 minutes in the morning and every 20 minutes in the afternoon).
Figure 5 - Current Route 149 in Elmvale - Possible reduction to peak periods only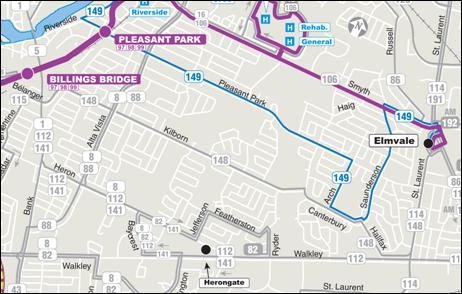 Routes under review for this category include: Routes 103, 116, 127, 136, 137, 140, 143, 145, 147, 149, 152, 153, 161, 163, 165, 167, 171, 174, 175, 178, and 306, and certain sections of Routes 5, 6, 9, 12, 16, 18, 40, 82, 97, 105, 106, 115, 120, 121, 125, 129, 131, 151, 154, 156, 166, 169, 190, 191, 192, 197, and 232.
2.5.5 Overall Results of Network Reorganization
The combined result of route changes such as those outlined in the three sections above will be to create a streamlined, more productive transit network that carries the same number of customers at a considerably lower cost.  Generally, some customers will have a longer walk to their nearest bus stop and some will have an additional transfer to complete their trips, but many customers will have a shorter waiting time and a shorter travel time on board the bus, and overall the system will be more reliable and easier to use."
The following map illustrates how different types of route changes on different routes can combine to create an effective, convenient, and reliable transit network.  This map shows a possible network of all-day local routes in Orleans. Along with Transitway Routes 94 and 95, five local routes would bring transit service within a ten-minute walk of almost all residents.  Such a network would have considerably lower operating costs than the current network, which has eight local routes in Orleans.  On this map, the shaded area is the area within a ten-minute walk of a bus stop.
Figure 6 - Possible all-day route network for Orléans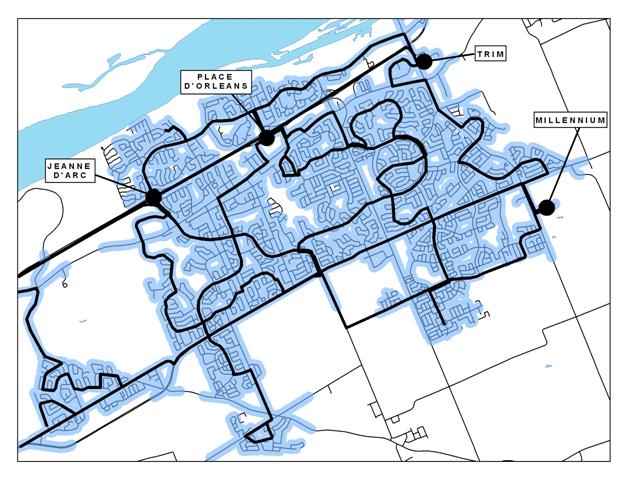 In planning the revised route network, OC Transpo staff will be paying particular attention to retaining direct service or easy connections to major points, including downtown.  The revised network will have sufficient capacity to carry all current customers.  Some routes will operate more frequently than they do now, and many buses which now have available capacity will carry more customers than they do now.
OC Transpo staff are currently examining all routes in the system to identify opportunities to improve productivity as described here, aiming always to minimize inconvenience for current customers while making better use of available resources.  Proposals will be made available for consultation with customers and residents, and the input from the consultation will inform the recommendations that staff make for approval by the Transit Commission.  The approved changes would begin in September 2011.
2.7
Increase Capacity of O-Train Service
Initially established as a two-year pilot program in 2001, the O-Train continues to attract more customers every year and has become an essential part of the OC Transpo system.  The O-Train serves two predominant travel markets: transportation to and from Carleton University and north-south travel that is not to or from downtown, such as from Ottawa South to Tunney's Pasture.  During 2010, with the increased ridership from Carleton University resulting from the introduction of the U-Pass, the capacity limits of the O-Train service are being reached at the busiest times.
Budget 2011 provides funds to acquire one additional spare Talent train to allow for future O-Train service without interruption or reduction due to maintenance programs. Budget 2011 also provides for upgrades and improvements to O-Train stations initially constructed for a pilot period.  The new Talent train, bringing the complement to 4 train sets, will allow for a full set of spare vehicles, decreasing service interruptions in the future.
In addition to these investments, staff are exploring the possibility of increasing O-Train frequency, additional system upgrades and putting 4 vehicles in operation on the line at one time instead of 2 as we have today.   If O-Train service can be increased from 15 minutes to 10 minute service, O-Train capacity would be increased by 50 per cent, from 1200 to 1800 customers per hour in each direction.
This strategic investment would contribute to balancing the number of customers from the south entering downtown from the east and from the west.  Many customers who now enter or pass through downtown via the Transitway from Hurdman Station would choose to use the O-Train as part of their trip if it were more frequent and had more capacity.  It would reduce pressure on the link between Hurdman Station and downtown during the years of light rail construction, and it would provide a second attractive option for travel after the opening of the initial light rail line, building the market for the future north-south light rail line.
This solution would also decrease the number of buses required during the construction of the light rail line by using the existing fixed infrastructure and reducing overhead.  Implementing the new trains would avoid short-term bus acquisitions, stranded costs or higher cost leases required to accommodate the construction of the light rail system. 
In early 2011, staff will be evaluating the business case for expanding the capacity of the O-Train service to carry more customers at a lower operating cost than buses.  The business case will be presented to the Transit Commission before May of 2011, so that necessary improvements in service can be made in time for light rail construction.