Report to/Rapport au :
Planning and Environment Committee
Comité de l'urbanisme et de l'environnement
and Council / et au Conseil
29 October 2010 / 29 octobre 2010
Submitted by/Soumis par : Nancy Schepers, Deputy City Manager/Directrice municipale adjointe, Infrastructure Services and Community Sustainability/Services d'infrastructure et Viabilité des collectivités
Contact Person/Personne-ressource : Derrick Moodie, Acting Manager/Gestionnaire intérimaire, Development Review-Suburban Services/Examen des projets d'aménagement-Services suburbains, Planning and Growth Management/Urbanisme et Gestion de la croissance
(613) 580-2424, 15134  Derrick.Moodie@ottawa.ca
REPORT RECOMMENDATIONS
That the  recommend Council approve an amendment to the Zoning By-law 2008-250 to change the zoning of Part of 2484 Trim Road from DR Development Reserve and AG Agricultural to Residential – R3YY Exception Zone XX and O1 Open Space, as shown in Documents 1 and 2 and as detailed in Document 3.
RECOMMANDATIONS DU RAPPORT
Que le Comité de l'urbanisme et de l'environnement recommande au Conseil d'approuver une demande de modification du Règlement de zonage no 2008-250 visant à changer le zonage d'une partie du 2484, chemin Trim, de DR (Zone d'aménagement futur) et AG (Zone agricole) à R3YY (Zone résidentielle de densité 3 avec exception YY) et O1 (Zone de parc et d'espace vert), tel que le montrent les documents 1 et 2 et l'explique le document 3.
BACKGROUND
The subject site is situated approximately 800 metres south of the intersection of Portobello Boulevard with the Blackburn Bypass and west of Trim Road, within the urban boundary.
The subject site is approximately 6.64 hectares in area, triangular in shape, and is relatively flat and featureless. Until recently, the site was used for agricultural purposes.
Immediately north of the site is a large rectangular parcel of land owned by the City.  City Council recently approved the transfer of part of these lands to the applicant as part of a land exchange involving environmental lands in the Barrhaven South area. Further north is the Blackburn Bypass that runs in an east-west direction through the southern portion of Orléans. Abutting the site to the west is the unopened road allowance for the future extension of Portobello Boulevard, from which the subject site will be accessed. Opposite the road allowance is the eastern limit of Minto Communities' Avalon South residential development. The Rural Area abuts the site to the south and east, as designated in the Official Plan.
The proposed subdivision contains a grid of local public streets with widths of 16.5 metres and 18 metres and one collector street of 22 metres in width along which front a total of 151 single-detached and multiple-attached dwellings. Two of the local streets are 14 metres wide where it is single-loaded adjacent to the proposed park and boundary of the rural area and adjacent to the future extension of Portobello Boulevard. The subdivision will be accessed from Portobello Boulevard, which will extend from the Blackburn Bypass south to the southern limit of the site and terminate at a cul-de-sac. The residential units will not have frontage along Portobello Boulevard.
A 0.53-hectare park, triangular in shape, is proposed on the southernmost portion of the lands, which has over 200 metres of frontage along a local road and along the extended Portobello Boulevard.
Official Plan
In accordance with the Official Plan, the property is located at the southern edge of the General Urban Area, as designated on Schedule B, Urban Policy Plan. A broad range of uses are permitted in the General Urban Area including residential, commercial, employment and institutional.  More specifically, the Official Plan permits all types and densities of housing in the General Urban Area. The City supports infill development and other intensification within the General Urban Area in a manner that enhances and complements the desirable characteristics and ensures the long-term vitality of the existing communities that make up the city.
When considering a proposal for residential intensification through infill or redevelopment in the General Urban Area, the City will consider factors such as compatibility with surrounding uses, the importance of new development relating to existing community character so that it enhances and builds upon desirable established patterns and built form; and the achievement of a balance of housing types and tenures to provide a full range of housing for a variety of demographic profiles.
Portobello Boulevard Extension is planned as a collector with a 26-metre wide right-of-way (ROW).  The future Portobello Boulevard is situated in the 20-metre unopened road allowance owned by the City.  The Plan of Subdivision provides and anticipates a road widening dedication of approximately three metres in width, measured from the existing easternmost portion of the ROW, at no cost to the City. Additional lands are required from lands to the west and north, including the Municipally-owned lands to the north.
Purpose of Zoning Amendment
The applicant is proposing 151 residential units, consisting of 74 detached dwellings and 77 multiple attached dwellings (Widelot and Village Townhomes).  The Amendment would add residential uses as permitted uses on the site in order to allow for the development of the proposed residential subdivision, identified as Phase 1. It is anticipated that the Phase 2 lands to the north will be subject to a future Zoning By-law Amendment to instate the same R3YY Exception Zone.
The detached dwelling units would range from 10.36 metres to 13 metres in width with an average lot depth of 26 metres.  The street townhomes would measure seven metres to 10 metres in width with a typical lot depth of 25 metres.  The village townhomes would measure 6.4 metres to 9.45 metres in width with a typical lot depth of 14 metres for the back to back unit.
The project yields a gross density of approximately 18.5 units per hectare.  The net density is 45 units per hectare, excluding municipal roads. 
The Zoning By-law Amendment is based on 16.5-metre wide local right-of-ways with no sidewalks, and 18-metre and 22-metre streets with a 2.0-metre wide sidewalk on one side of the street.  The exception zone being created will allow for varied setbacks based on the road cross section and modifications to certain permitted projections.  This will allow porches to be closer to the street and ensure that tree planting in sensitive marine clay soils is possible, resulting in a strong street presence and encouraging a well designed streetscape.
The Mattamy subdivision will have vehicular access via one proposed roadway to the extension of Portobello Boulevard.  This connection will be the sole access to Phase 1, and will be a minor collector roadway.  The owner is obligated to construct Portobello Boulevard from the Blackburn Bypass to the urban boundary terminus to municipal standards in order to provide sufficient access to this subdivision and meet conditions of a land exchange agreement between Mattamy and the City of Ottawa.
The Plan of Subdivision complies with the City's urban design objectives and is consistent with land use planning principles, including a modified-grid street pattern, with shorter block lengths than typical suburban design to achieve traffic calming and a more urban character.  The urban‑type street cross-sections with trees and sidewalks, will contribute to an urban and pedestrian oriented development and the alternative standard right-of-way width of 16.5 metres proposed for local streets helps to achieve an urban character.
The existing zoning for the Site is Agricultural (AG) and Development Reserve (DR), which recognizes lands intended for future urban development in areas designated General Urban Area in the Official Plan. The DR Zone allows for a limited range of uses, including: agricultural use, community garden, emergency service, environmental preserve and education area, forestry operation, group home, home-based business, one detached dwelling accessory to a permitted use, and park.
The applicant is requesting an amendment to Zoning By-law 2008-250 to rezone the lands from DR - Development Reserve and AG – Agricultural to R3YY - Residential Third Density Zone Subzone YY with site specific exceptions and O1 - Open Space. The amendment would allow for the following permitted uses: detached dwellings, multiple attached dwellings (which would include both the widelot townhomes and village townhomes), a home-based business and a park.
The amendment would establish site specific zoning provisions for detached dwellings and multiple attached dwellings, including minimum lot area, frontage and yard setbacks. It would also include special zone provisions such as modifications to permitted projections and parking requirements for home-based businesses.
Some of the zoning details respond to constraints related to street trees planted within areas with sensitive clays, as per City's Council's previous policy direction. The conditions of Draft Plan of Subdivision approved on April 22, 2010, also address design considerations, tree species selection and separation requirements to dwelling units.
Of special interest, the zoning details, and in particular the front yard building setbacks will require additional separation between street trees and the front portion of the dwelling, a distance of no less than 7.5 m in width, unless the developer incorporates root barriers, tree wells or other methods deemed acceptable by the City Forester. As per the policy, a 2.5-metre distance must also be maintained between the tree and the curb.
The park located at the most southern end of the subdivision will be zoned O1 Open Space.
DISCUSSION
The proposed zoning complies with Official Plan policies, particularly as they relate to the General Urban Area, which support the development of a full range of housing densities and encourage uses within neighbourhoods providing for the local everyday needs of the residents, including shopping, recreation and services.
Technical studies such as servicing, traffic and geotechnical in support of the Plan of Subdivision have been submitted and approved by the City, and adequately satisfy all requirements for this proposed Zoning By-law Amendment.
This amendment will correct an anomaly in the zoning schedule where the zoning limit should coincide with the urban boundary, but is not shown in the proper location in accordance with Schedule B of the Official Plan and Schedule A in the former Cumberland Urban Official Plan. It is important to note that this in no way constitutes an expansion of the urban boundary but rather an interpretation that this development follows the urban boundary.  This amendment will not only create an exception to the R3YY zone and zone a park, but will also correct a drafting error in the location of the zoning lines which corresponds to the urban limit.  Staff have examined past Zoning By-laws and the road network to verify that the zoning lines, as proposed, correspond to a correct interpretation of the urban boundary.
Staff recommend approval of the Zoning By-law amendment as outlined in Document 2.
RURAL IMPLICATIONS
N/A
CONSULTATION
Notice of this application was carried out in accordance with the City's Public Notification and Consultation Policy.  The City did not receive any negative comments or opposition to this application.
COMMENTS BY THE WARD COUNCILLOR(S)
 The Ward Councillor is aware of this application and the staff recommendation.
LEGAL/RISK MANAGEMENT IMPLICATIONS
There are no legal/risk management implications associated with this report.
CITY STRATEGIC PLAN
The application is consistent with the Planning and Growth Management priority which encourages the infill and intensification of lands designated General Urban Area.
TECHNICAL IMPLICATIONS
FINANCIAL IMPLICATIONS
There are no direct financial implications associated with this report.
APPLICATION PROCESS TIMELINE STATUS
The application was not processed by the "On Time Decision Date" established for the processing of Zoning By-law amendments due to additional time required for the assessment and approval of the concurrent Plan of Subdivision application for the site.
SUPPORTING DOCUMENTATION
Document 1    Location Map
Document 2    Zoning Schedule
Document 3    Details of Recommended Zoning
Document 4    Plan of Subdivision
DISPOSITION
City Clerk and Solicitor Department, Legislative Services to notify the owner, applicant, OttawaScene.com, 174 Colonnade Road, Unit #33, Ottawa, ON  K2E 7J5, Ghislain Lamarche, Program Manager, Assessment, Financial Services Branch (Mail Code:  26-76) of City Council's decision.
Planning and Growth Management to prepare the implementing by-law, forward to Legal Services and undertake the statutory notification.
Legal Services to forward the implementing by-law to City Council.
LOCATION MAP
                                                                                                DOCUMENT 1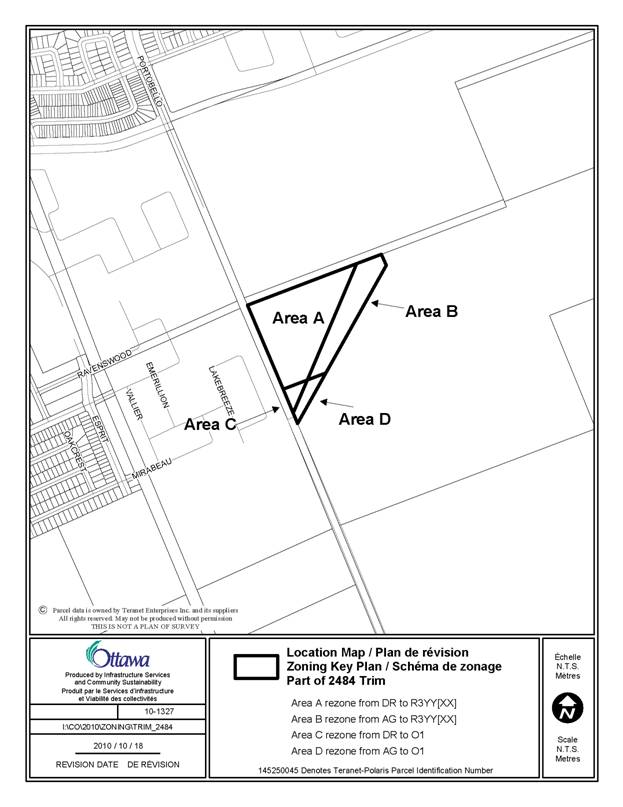 Zoning Schedule                                                                                         DOCUMENT 2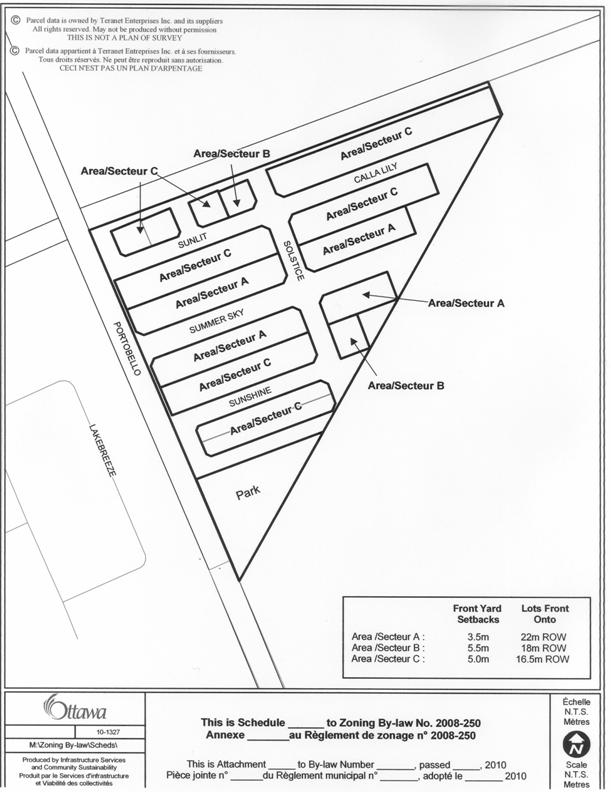 DETAILS OF RECOMMENDED ZONING                                                    DOCUMENT 3
Details of Recommended Zoning
1.         Section 239, Urban Exceptions of By-law 2008-250 be amended by adding a new exception including the following provisions or ones similar with the same intent:
a. Permitted Uses
                        only the following uses are permitted:
                        - detached dwelling
                        - multiple attached dwelling
                        - home based business
                        - park
            b.         Zone Provisions
                        i.          detached dwellings
                                    minimum lot area:                               220 square metres
                                    minimum lot width:                            10.0 metres
                                    minimum front yard setback:              as per schedule xxx
                                    min. corner side yard setback:            2.5 metres
                        ii.         multiple attached dwellings
                                    minimum lot area:                               81 square metres
                                    min. lot width:                                    6.0 metres
                                    min. front yard setback:                      as per schedule xxx
                                    min. rear yard setback:                        when units are attached back to back as well as side to side, no setback required
                                    min. corner side yard setback:            2.5 metres
                        iii.        parking requirement for home based business in a multiple attached dwelling or semi-detached dwelling: 1 parking space required only when an on-site, non-resident employee is involved
iv.        an attached garage must be a minimum of 6.0 metres from a sidewalk that was provided as part of a plan of subdivision
v.         despite Section 57, the size of the required corner sight triangle will be as per the approved plan of subdivision.
vi.        despite the permitted projections in Table 65 the following is permitted:
1. ornamental elements such as cornices, eaves, eave-troughs and gutters, all may project a maximum of 1.0 metre into a required yard but must be at least 0.2 metres away from any side lot line.
2. steps may project into a required front or corner side yard a maximum of 2.5 metres but must be at least 0.5 metres away from a lot line 
3. an air conditioner condenser may be located in a front yard when units are attached back to back.
Plan of Subdivision                                                                                   DOCUMENT 4