Report to/Rapport au :
Planning and Environment Committee
Comité de l'urbanisme et de l'environnement
and Council / et au Conseil
28 October 2010/ le 28 octobre 2010
Submitted by/Soumis par : Nancy Schepers, Deputy City Manager/Directrice municipale adjointe, Infrastructure Services and Community Sustainability/Services d'infrastructure et Viabilité des collectivités
Contact Person/Personne-ressource : Derrick Moodie, Acting Manager/Gestionnaire intérimaire, Development Review-Suburban Services/Examen des projets d'aménagement-Services suburbains, Planning and Growth Management/Urbanisme et Gestion de la croissance
(613) 580-2424, 15134  Derrick.Moodie@ottawa.ca
REPORT RECOMMENDATIONS
That the Planning and Environment Committee recommend Council approve an amendment to the Zoning By-law 2008-250 to change the zoning of 6060 Renaud Road from Development Reserve, (DR) to Residential First Density, Subzone WW (R1WW), as shown in Document 1 and detailed in Document 2.
RECOMMANDATIONS DU RAPPORT
Que le Comité de l'urbanisme et de l'environnement recommande au Conseil d'approuver une modification au Règlement de zonage no 2008-250 afin de changer le zonage de la propriété située au 6060, chemin Renaud, de Zone d'aménagement futur (DR) à Zone résidentielle de densité 1, sous-zone WW (R1WW), comme le montre le document 1 et l'explique le document 2.
BACKGROUND
The current lands contain a lot area of 22,811.6 square metres with 39.72 metres frontage along Renaud Road. A detached dwelling and two detached sheds are currently located on the property. There is also a parking lot for campers, boats and RVs behind the dwelling.
This site was the subject of a consent application (D08-01-09/B-00345) and approval was granted, subject to conditions, to sever the site into two parcels in order to locate the current dwelling on one parcel and create another parcel for future residential development. The rezoning of the lands to permit a residential use is a condition of the consent application.
The lands subject to the rezoning is a portion of the lands on which the existing dwelling is located. This portion contains a lot area of 3,904.6 square metres with 39.72 metres of frontage along Renaud Road. The remainder of the lands will remain in the DR zone and will be rezoned at the time development of the lands is proposed.
This area is generally characterized by established and developing residential dwellings.
Purpose of Zoning Amendment
The purpose of the zoning amendment is to zone the parcel containing the detached dwelling to a zone which permits a detached dwelling.
The site is currently zoned Development Reserve. Within this zone, detached dwellings are only permitted as an accessory use to a permitted use.
The zoning is proposed to be amended to the Residential First Density, Subzone WW (R1WW) zone in order to permit a detached dwelling.
DISCUSSION
The lands are designated General Urban Area and Developing Community within the Official Plan. The lands are also located within the East Urban Community-Community Design Plan.
The General Urban Area designation permits all types and densities of housing, to be in combination with employment, retail, service, cultural, leisure, entertainment and institutional uses to facilitate complete and sustainable communities. The Developing Community Designation identifies parts of the city which are undeveloped or underdeveloped and are to offer a full range of uses.
The East Urban Community recognizes the existing residential use for the subject site and intends for the lands located to the rear to be developed with residential development.
Zoning
The lands are currently zoned Development Reserve (DR) in the Zoning By-law. The Development Reserve Zone recognize lands intended for future urban development in areas designated General Urban Area and Developing Communities and limits the range of permitted uses to those which will not preclude future development options. A single detached dwelling is not permitted within this zone and the existing home is a legal non-conforming use.
There are a number of existing homes on either side of the street along this portion of Renaud Road. Future development is not compromised as a result of this application, as access will be provided internal to the subdivision. A number of streets have been developed to facilitate this and as future developed will continue the pattern.
The Zoning By-law amendment proposes to change the zoning from DR to the R1WW zone to permit a detached dwelling. No new development is proposed as a result of this application. The existing vehicle storage area will be discontinued.
No servicing concerns were raised as a result of this application.
RURAL IMPLICATIONS
N/A
CONSULTATION
Notice of this application was carried out in accordance with the City's Public Notification and Consultation Policy.
Two inquiries were received from members of the public requesting further information.
COMMENTS BY THE WARD COUNCILLOR(S)
The Ward Councillor is aware of this application and the staff recommendation.
LEGAL/RISK MANAGEMENT IMPLICATIONS
There are no legal/risk management implications associated with this report.
CITY STRATEGIC PLAN
In accordance with the City Strategic Plan, this development respects the existing urban fabric and the infrastructure required for the growth is available or will be available to serve the development.
TECHNICAL IMPLICATIONS
FINANCIAL IMPLICATIONS
There are no direct financial implications associated with this report.
APPLICATION PROCESS TIMELINE STATUS
This application was processed by the "On Time Decision Date" established for the processing of Zoning By-law amendment applications.
SUPPORTING DOCUMENTATION
Document 1    Location Map
Document 2    Details of Recommended Zoning
DISPOSITION
City Clerk and Solicitor Department, Legislative Services to notify the owner, applicant, OttawaScene.com, 174 Colonnade Road, Unit #33, Ottawa, ON  K2E 7J5, Ghislain Lamarche, Program Manager, Assessment, Financial Services Branch (Mail Code:  26-76) of City Council's decision.
Planning and Growth Management to prepare the implementing by-law, forward to Legal Services and undertake the statutory notification.
Legal Services to forward the implementing by-law to City Council.
LOCATION MAP
                                                                                                DOCUMENT 1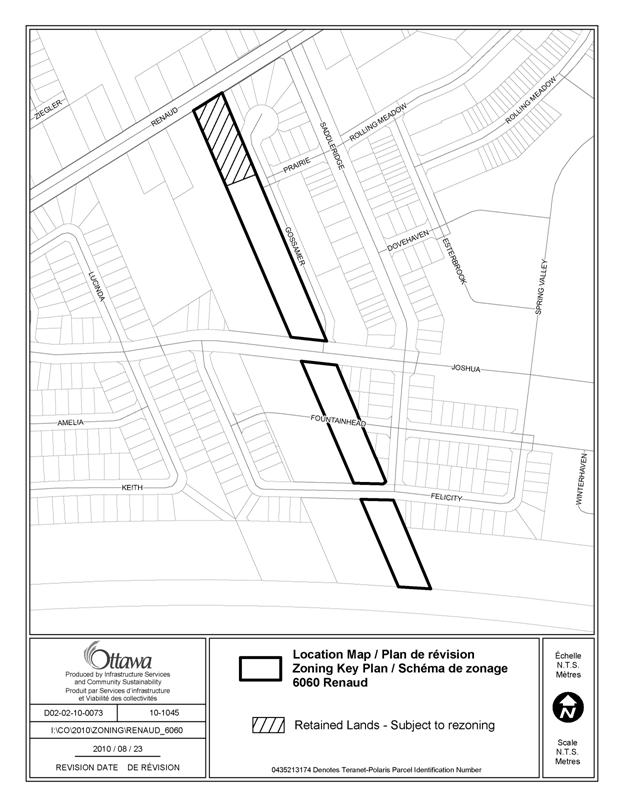 DETAILS OF RECOMMENDED ZONING                                                    DOCUMENT 2
A.      Zoning By-law 2008-250
The zoning map of the Comprehensive City of Ottawa Zoning By-law will be amended by changing the zoning for the subject property from Development Reserve (DR) to R1WW as shown on Document 1.