| | |
| --- | --- |
| DATE: | 28 October 2013 |
| TO/DEST: | Executive Director, Ottawa Police Services Board |
| FROM/EXP: | Chief of Police, Ottawa Police Service |
| SUBJECT/OBJET: | WORKFORCE MANAGEMENT REPORT – THIRD QUARTER 2013 |
RECOMMENDATION
That the Ottawa Police Services Board receive this report for information.
BACKGROUND
Section 31(1) of the Police Services Act sets out the Board's responsibilities with respect to the provision of adequate and effective police service in the municipality.  Under Section 31(1) (a), the Board is responsible for the appointment of sworn members to its municipal police force.
The Board has also requested information be submitted, on a quarterly basis, that captures key elements of the Ottawa Police Service (OPS) workforce activities including hiring, retirements, resignations, promotions and Senior Officers' Assignments.
The purpose of this report is to:
1. Identify all new members and fulfill the Board's obligation to approve all appointments of new members;
2. Provide the Board with an overview of workforce management activities that have occurred in Q3 2013, including:  sworn officer recruitment, retirements and resignations, as well as sworn officer promotions and civilian activities;
3. Summarize the 2013 hiring activities; and
4. Summarize hiring goals for 2013 including assumptions related to retirements and resignations.
5. Update the Board regarding the assignment of Senior Officers within the Ottawa Police Service.
Information provided in this report includes names and ranks of personnel as governed by the Municipal Freedom of Information and Protection of Privacy Act.
DISCUSSION
Sworn Officer Staffing
Forecast of Hiring Requirements
The forecast of sworn officer hiring requirements for the year is developed annually by OPS.  It is built around the estimated number of officers that must be hired to fill both new and existing vacant positions. 
In developing a hiring plan, five (5) key factors are considered:
1. A new recruit takes 9 months, on average, to become deployable;
2. An experienced officer from another police service takes 1 to 2 months, on average, to become deployable;
3. The Ontario Police College typically only holds 3 training sessions per year for new recruits with limited space in each class;
4. Retirements tend to occur at the beginning of each new fiscal year; and,
5. A complement carry-over of 40% of the following year's forecasted retirements is needed to ensure that staffing levels in Q1 do not fall below acceptable levels.
2013 Forecast
The 2013 Sworn Officer Hiring requirements take into consideration the number of new positions budgeted in the year, and any change to the number of seconded positions in the organization.  It also considers the number of officers over (or under) complement at the beginning of the year, the projected number of retirements and resignations during the year, and how many extra officers will be needed to begin the following year, to ensure staffing levels do not fall below acceptable levels when the majority of retirements occur in Q1.
The forecasted hiring requirement has been revised downward in Q3 from 29 to 18 sworn officers. This change has occurred primarily because of the 9 secondment positions that will not be renewed in the coming year.  At year end 2012, OPS had a complement shortfall of 6 officers. It is expected that 25 officers will retire and another 7 will resign or vacate their position for other reasons.  Also this year, 3 officers went on extended leave and 3 officers returned from extended leave.  This year there should be 10 extra officers carried over to help meet operational needs in Q1 2014.  These assumptions are summarized in Table 1.
Table 1
2013 Summary of Sworn Officer Hiring Requirements

Q3 2013 Position, Staffing and Hiring Activities
In Q3 2013, there was 1 retirement, 1 resignation and 2 employees who vacated their positions due to extended leave.  There was also one employee on WSIB who resigned.  This resignation does not change the hiring requirements as their position would have been filled when they were first vacated.  Including Q1 and Q2 activities, 12 of the forecasted 18 position and staffing changes have occurred.  Annex A to this report lists the names and ranks of the sworn officers who left the employment of OPS in Q3 2013 due to retirement and resignation (from active service or WSIB).
As per the revised plan, 12 officers were hired in Q3 2012 bringing the total number of hires for 2013 to 18.  These 12 officers will be brought forward for Board approval in the Q4 2013 Workforce Management report upon their successful completion of the Basic Constable training program at the Ontario Police College.  The December 2013 intake has been cancelled to reflect changes to the hiring requirements.  Table 2 summarizes the Q3 2013 hiring activity and the hiring plan for the year. 
Table 2
2013 Sworn Officer Hiring Plan

Q3 2013 Sworn Officer Promotions
Table 3
Q3 2013 Sworn Officer Promotions
| | | | | | | |
| --- | --- | --- | --- | --- | --- | --- |
| | Deputy Chief | Superintendent | Inspector | S/Sergeant | Sergeant | Total |
| Q3 Sworn Officer Promotions | 0 | 2 | 1 | 0 | 0 | 3 |
Civilian Staffing
2013 Staffing Plan
Civilian staffing is driven each year by many of the same factors that influence Sworn Officer hiring, but the volume and timing can be somewhat more difficult to predict. The original 2013 plan forecasted 172 staffing actions. This number has 6 components:
1. 13 new positions have been added to the complement as part of the reallocation of capital and operating funding in the 2013 budget process;
2. At the start of 2013 there were 24 vacant positions, 10 forecasted retirements and 5 forecasted resignations;
3. 25 subsequent staffing actions are forecasted to occur to backfill positions that become vacant as a result of internal candidates successfully competing for the 24 vacant positions (staff have assumed internal candidates will succeed in the majority of the staffing actions);
4. 40 staffing actions to fill medium-to-long-term temporary requirements;
5. 40 staffing actions to fill short-term (4 months or less) temporary requirements; and
6. 15 staffing actions to fill casual opportunities.
The forecast for Q4 2013 has been updated to take into consideration the status of current and future staffing for 2013.  The forecasted total has been increased to 181 actions for the year.
Table 4
2013 Civilian Staffing Plan
2013 Original Forecasted Requirements

Q1 Actions

Q2 Actions

Q3 Actions

Q4  Forecast

2013

Total Staffing

Actions

New Positions

13

0

0

2

11

13

Existing Positions

  Existing Vacancies

24

4

8

4

8

24

  Retirements

10

7

3

3

0

13

  Resignations

5

1

3

2

0

6

  Backfilling Requirements

25

1

0

6

10

17

  Mid–Long Term  Temporary

  Requirements

40

5

16

24

11

56

  Short Term Temporary

  Requirements (EOI)

40

9

9

6

10

34

  Casual Requirements

15

11

4

0

3

18

Total Staffing Forecast

172

38

43

47

53

181
Q3 2013 Activities
Table 5
Demographic Highlights of New OPS Civilian Employees
Q3 2013 Hiring Activities
 Total Number

 Men

 Women

 Average Age

 English and

 French Speaking

 Other

 Languages

Representative Indicator

College Diploma

University

Degree

Military Service  

Q3

Civilian Employees

10

6

4

34

7

None

*

4 - College Diploma

4 - University Degree
*None have self-identified
Civilian staffing includes internal movement and advancement opportunities which arise for existing employees as a result of attrition and growth.  They are filled through a competition process.  Priority Placement of members requiring accommodation and the fulfilment of Labour Relations Agreements are also a factor in the movement of civilians to new permanent positions.  Annex E to this report lists the names of the 4 permanent civilian members in new permanent positions as of Q3 2013.
Senior Officers' Assignment Update
The OPS currently has three (3) sworn members in acting assignments due primarily to ongoing projects:
1. Radio Project;
2. Service Initiative Project; and
3. Collision Reporting Centre (CRC) Project.
The temporary position of Superintendent, CRC Project was created during Q3 2013.  This position is held by Superintendent Ralph Erfle as he oversees the completion of this project.
There are also two (2) positions vacant at the Inspector level.
There are two (2) Senior Officer civilian positions currently vacant:
1. Chief Information Officer – Daniel Steeves commencing October 7, 2013, Baby Kotlarewsky currently acting until October 6, 2013.
2. Manager, Labour Relations – Nancy Burrows currently acting until December 17, 2013.
The position of Manager, Talent Development and Performance Management was filled this quarter by Arni Ahronson.
Mary Deavey, Manager, Records, is currently acting in the temporary position of Director, BIS Implementation until March 16, 2014. 
Table 7 outlines the various Directorates to which the Senior Officers are assigned, as of September 26, 2013. 
Table 7
Senior Officers' Assignment Report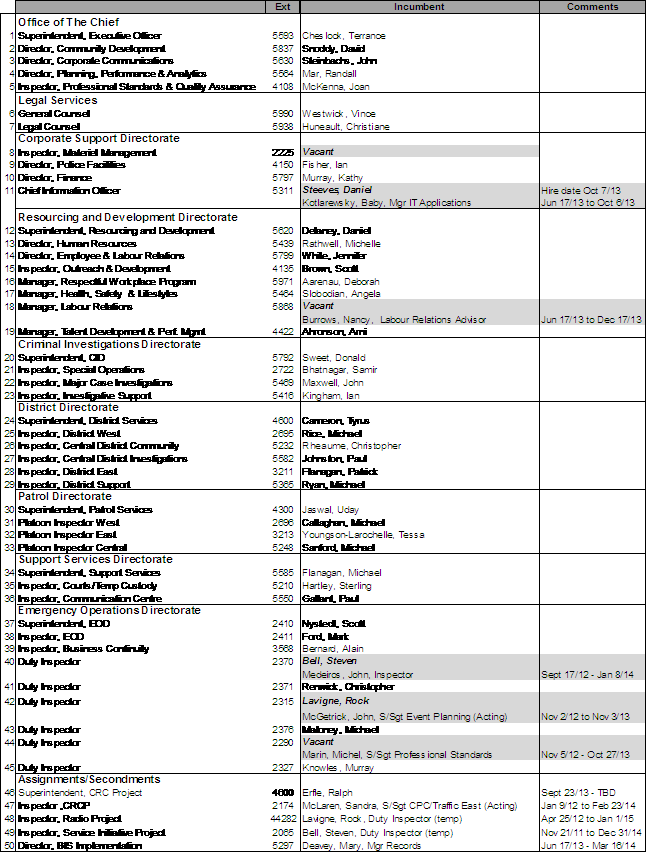 CONSULTATION
Not applicable.
FINANCIAL STATEMENT
Not applicable.
CONCLUSION
This report summarizes the activities that have occurred in the third quarter to fulfill the goals of the plans; summarizes the 2013 OPS Sworn and Civilian hiring plans; sets out the actual hiring requirements for 2013; and outlines the forecasted hiring requirements for 2013.  In addition, this report provides an overview of other workforce management activities including sworn and civilian employee retirements, resignations, and promotions.
This report also identifies the substantive positions to which civilian and sworn Senior Officers are assigned.  Secondments and assignments are also captured in the data to provide a complete picture of the range of functions undertaken by this group.  The staffing decisions impacting the assignment of Senior Officers are made with due consideration to balancing the need for:  consistency in leadership, minimizing the potential impacts to staff and ensuring the provision of police services to the residents of Ottawa.
(Original signed by)
Annex A – 2013 Q3 Sworn Officer Retirements and Resignations
Annex B – 2013 Q3 Sworn Promotions
Annex C – 2013 Q3 Civilian Retirements and Resignations
Annex D – 2013 Q3 Permanent Civilian Hires
Annex E – 2013 Q3 Civilians in New Permanent Positions
Responsible for the report:  Director General Debra Frazer
This document contains information that reports on activities related to the Ottawa Police Service Business Plan.
ANNEX A
Q3 2013 Sworn Officer Retirements
NAME

DIRECTORATE

SECTION

RANK

RETIREMENT DATE/LONG-TERM

LEAVE DATE

1.

Daniel Beauchamp

Patrol

Platoon E Central

Sergeant

1 July 2013
Q3 2013 Sworn Officer Resignations
| | | | | | |
| --- | --- | --- | --- | --- | --- |
| | NAME | DIRECTORATE | SECTION | RANK | RESIGNED AS OF |
| 1. | William VanRyswyk | District | Front Desk | Sergeant | 1 July 2013 |
| 2. | Roberta Weir | Patrol | Central Fixed Afternoons | Constable | 5 September 2013 |
ANNEX B
Q3 2013 Sworn Promotions
| | | | | | |
| --- | --- | --- | --- | --- | --- |
| | NAME | DIRECTORATE | SECTION | PROMOTED TO | PROMOTION DATE |
| 1. | Uday Jaswal | Corporate Support | Materiel Management | Superintendent, Patrol Directorate | 23 September 2013 |
| 2. | Don Sweet | Patrol | Duty Inspector | Superintendent, Criminal Investigations Directorate | 23 September 2013 |
| 3. | John Medeiros | Patrol | Superintendent's Office | Inspector | 23 September 2013 |
ANNEX C
Q3 2013 Civilian Retirements
| | | | | | |
| --- | --- | --- | --- | --- | --- |
| | NAME | DIRECTORATE | SECTION | PERMANENT POSITION | RETIREMENT DATE/LONG-TERM LEAVE DATE |
| 1. | Theresa Turner | Support Services | Call Centre | Call Centre Agent | 1 July 2013 |
| 2. | Helen Lapierre | Corporate Support | Freedom of Information | FOI Analyst | 1 August 2013 |
| 3. | Deborah Cloutier | Corporate Support | Freedom of Information | Release of Information Clerk | 1 September 2013 |
Q3 2013 Civilian Resignations
| | | | | | |
| --- | --- | --- | --- | --- | --- |
| | NAME | DIRECTORATE | SECTION | PERMANENT POSITION | RESIGNATION DATE |
| 1. | Marie-Claire Fortin | Support Services | Communications Centre | Communications Centre Clerk | 28 August 2013 |
| 2. | Amie Scharfe | Corporate Support | Background Clearance | Background Clearance Representative | 7 September 2013 |
ANNEX D
Q3 2013 Permanent Civilian Hires
| | | | | | |
| --- | --- | --- | --- | --- | --- |
| | NAME | DIRECTORATE | SECTION | PERMANENT POSITION | START DATE |
| 1. | Gordon Jones | Criminal Investigations | Criminal Intelligence | Supervisor Criminal Intelligence Monitors | 28 June 2013 |
| 2. | Michelle Newton | Support Services | Court Liaison | Court Liaison Clerk | 9 August 2013 |
| 3. | Allen John Ross | Corporate Support | CPIC | CPIC Operator | 23 August 2013 |
| 4. | Arni Ahronson | Resourcing & Development | Outreach & Development | Mgr. Talent Dev. & Perf. Mgmt. | 29 August 2013 |
| 5. | Darlene Kilby | Corporate Support | CPIC | CPIC Operator | 30 August 2013 |
| 6. | Charlene Campbell | Office of the Chief | Project Mgmt Office | Mgr Project Mgmt. Office | 9 September 2013 |
| 7. | Francis Beaudry | Support Services | Call Centre | Call Centre Agent | 20 September 2013 |
| 8. | Dean M. O'Brien | Support Services | Court Liaison | Court Liaison Clerk | 20 September 2013 |
| 9. | Stephane Van Westerop | Corporate Support | Freedom of Information | Release of Information Clerk | 20 September 2013 |
| 10. | Serena Docherty | Support Services | Court Liaison | Charge Coordinator | 23 September 2013 |
ANNEX E
Q2 2013 Civilians in New Permanent Positions
| | | | | | |
| --- | --- | --- | --- | --- | --- |
| | NAME | DIRECTORATE | SECTION | PERMANENT POSITION | START DATE |
| 1. | Sebastien Saumure | Corporate Support | Freedom of Information | FOI Analyst | 1 August 2013 |
| 2. | Jeff Ryan | Support Services | Court Security / Temporary Custody | Special Constable | 9 August 2013 |
| 3. | Julie Kubiseski | Corporate Support | Background Clearance | Background Clearance Representative | 19 August 2013 |
|  4. | Cameron Hopgood | Office of the Chief | Business Enterprise Performance | Manager Business Performance | 4 September 2013 |