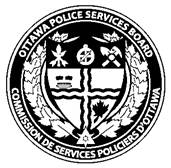 Special Meeting
Ottawa Police Services Board
DISPOSITION 39
Monday, 23 October 2013, 8:30 a.m.
Notes:  Underlining indicates a new or amended recommendation approved by the Board.
ITEMS OF BUSINESS
1. 2014 DRAFT OPERATING AND CAPITAL BUDGETS
That the Ottawa Police Services Board receive and table the Ottawa Police Service 2014 Draft Operating and Capital Budgets, to be considered at the Board meeting on November 25, 2013.
                                                                                                RECEIVED and TABLED