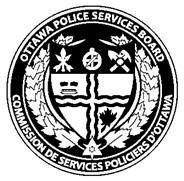 Special Meeting /
RÉUNION EXTRAORDINAIRE
TABLING OF 2014 BUDGET / DÉPÔT DU BUDGET 2014
Ottawa Police Services Board/
Commission de services policiers d'Ottawa
Agenda 39 / Ordre du jour 39
Wednesday, 23 October, 2013, 8:30 a.m.
mercredi, le 23 octobre 2013, 8h 30
Champlain Room, 110 Laurier Avenue West
Salle Champlain, 110, avenue Laurier ouest
Executive Director / Directrice exécutive:
Wendy Fedec, 560-1270, Wendy.Fedec@ottawa.ca
   Board Members / Membres de la commission:
   Councillor/conseiller E. El-Chantiry (Chair/président), J. Durrell (Vice Chair/vice-président), A. Doyle, Councillor/ conseillère J. Harder, C. Nicholson, L. A. Smallwood, Mayor/maire J. Watson
Ce document peut être consulté à l'addresse électronique suivante:
http://www.ottawa.ca
DECLARATIONS OF INTEREST / DÉclarations d'intÉrÊt
            ITEM OF BUSINESS / POINTS À L'ORDRE DU JOUR                                            
1. 2014 DRAFT OPERATING AND CAPITAL BUDGETS / BUDGET
PRÉLIMINAIRE D'IMMOBILISATION ET DE FONCTIONNEMENT 2014
Presentation / Présentation
Documents to be tabled at the meeting / Documents à être déposés à la réunion            
That the Ottawa Police Services Board receive and table the Ottawa Police Service 2014 Draft Operating and Capital Budgets, to be considered at the Board meeting on November 25, 2013
Que la Commission de services policiers reçoive et dépose les budgets préliminaires de fonctionnement et d'immobilisations de 2014 du Service de police d'Ottawa, qu'elle examinera à sa réunion du 25 novembre 2013.
ADJOURNMENT / LEVÉE DE LA SÉANCE
            NEXT MEETING / PROCHAINE RÉUNION
Regular Meeting, Public Delegations on the 2014 Budget –
            Monday, 28 October – 5:00 p.m. – Champlain Room
Réunion ordinaire, Délégations publiques du budget de 2014 –
le lundi 28 octobre  – 17 h – Salle Champlain
Regular Meeting, Public Delegations & Consideration of the 2014 Budget –
            Monday, 25 November – 5:00 p.m. – Champlain Room
Réunion ordinaire, Délégations publiques et considération du budget de 2014 -
le lundi 25 novembre – 17 h – Salle Champlain