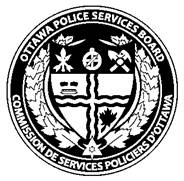 Special Meeting /
RÉUNION EXTRAORDINAIRE
TABLING OF BUDGET / DÉPÔT DU BUDGET
Ottawa Police Services Board/
Commission de services policiers d'Ottawa
Agenda 2 / Ordre du jour 2
Wednesday, 19 January, 8:30 a.m.
mercredi, le 19 janvier 2010, 8h 30
Champlain Room, 110 Laurier Avenue West
Salle Champlain, 110, avenue Laurier ouest
Executive Director / Directrice exécutive:
Wendy Fedec, 560-1270, Wendy.Fedec@ottawa.ca
   Board Members / Membres de la commission:
   Councillor/conseiller E. El-Chantiry, D. Guilmet-Harris, Councillor/conseillère Harder, H. Jensen, J. MacEwen, C. Nicholson, Mayor/maire J. Watson
Ce document peut être consulté à l'addresse électronique suivante:
http://www.ottawa.ca
ELECTION OF CHAIR AND VICE CHAIR /
ÉLECTION DU PRÉSIDENT ET DU VICE-PRÉSIDENT
DECLARATIONS OF INTEREST / DÉclarations d'intÉrÊt
            ITEM OF BUSINESS / POINTS À L'ORDRE DU JOUR                                              
1. 2011 DRAFT OPERATING AND CAPITAL BUDGET / BUDGET
PRÉLIMINAIRE D'IMMOBILISATION ET DE FONCTIONNEMENT 2011
Presentation by the Chief of Police and the Director General / Présentation par le chef de police et la directrice générale
Documents to be tabled at the meeting / Documents à être déposés à la réunion                 
That the Ottawa Police Services Board:
1.
Receive and table the Ottawa Police Service 2011 Draft Operating and Capital Budgets;
2.
Receive and table the options for attaining a 2.5% tax rate increase; and
3.
Consider and approve the Ottawa Police 2011 Draft Operating and Capital Budgets at a special meeting on 7 March 2011.

Que la Commission de services policiers d'Ottawa :

1) Reçoive et dépose les budgets préliminaires de fonctionnement et d'immobilisations de 2011 du Service de police d'Ottawa;

2) Reçoive et dépose les options pour l'atteinte d'une augmentation du taux d'imposition de 2,5 %;

3) Examine et approuve les budgets préliminaires de fonctionnement et d'immobilisations de 2011 du Service de police d'Ottawa à sa réunion extraordinaire du 7 mars 2011.

           




ADJOURNMENT / LEVÉE DE LA SÉANCE

            NEXT MEETING / PROCHAINE RÉUNION

Regular Meeting & Public Delegations on the 2011 Budget –

            Monday, 24 January 2011 – 5:00 p.m. – Champlain Room

Réunion ordinaire et Délégations publiques sur le budget de 2011 -

le lundi 24 janvier 2011 – 17 h – Salle Champlain

(TO BE CONFIRMED) / (À CONFIRMER)

Special Meeting –– Public Delegations on the 2011 Budget –

Monday, 7 February 2011 - 5:00 p.m.

Réunion extraordinaire – Délégations publiques sur le budget de 2011

            le lundi 7 février 2011 – 17 h

Regular Meeting & Public Delegations on the 2011 Budget –

            Monday, 28 February 2011 – 4:00 p.m. – Champlain Room

Réunion ordinaire et Délégations publiques sur le budget de 2011 -

le lundi 28 février 2011 – 16 h – Salle Champlain

            Special Meeting –– Approval of 2011 Budget –

            Monday, 7 March 2011 – 9:00 a.m. – Champlain Room

Réunion extraordinaire – approbation du budget 2011 –

le lundi 7 mars 2011 – 9 h – Salle Champlain