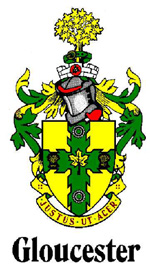 City of Gloucester Council Meeting
April 25, 2000
7:00 p.m.
---
1. CALL TO ORDER
2. CHANGES TO THE AGENDA
3. APPROVAL OF THE AGENDA
4. ADOPTION OF THE MINUTES
A resolution to adopt the minutes of the meeting of April 11th, 2000.
5. DISCLOSURE OF INTEREST
6. COMMUNICATIONS
A. Transition Issues
B. General
7. PUBLIC MEETINGS/HEARINGS
8. PETITIONS
9. DELEGATIONS
10. PRESENTATIONS
11. COMMUNITY DEVELOPMENT
A. Resolution - To approve arts grants recommended by the committee (Kim Copeland, Arts Board, Secretary, ext. 4236).
B. Resolution - To enact the following by-law:
By-law No. 66 of 2000; To authorize a contribution for a partnership with the City of Cumberland for the development of ball diamonds in Millennium Sports Park (Dave Darch, Deputy City Manager, Community Development, ext. 4191).
12. CORPORATE SERVICES
A. Resolution - To approve a policy and process for the allocation of monies from the Community Development Fund (Maria Guevremont, Coordinator, Legislative Services, ext. 4102).
B. Resolution - To approve "no recommendation" for Applications for Reduction and Refund of Taxes under Bill 79 sections of the Municipal Act in respect of the Frozen Assessment Listing in order to allow the applicants to appeal to the Assessment Review Board (Karen Tippett, Treasurer, ext. 4159).
C. Resolution - To consider a request to amend the evaluation criteria for charity access to bingo events (Linda Anderson, Manager, Municipal Standards, ext. 4127).
D. Resolution - To enact the following by-laws:
By-law No. 67 of 2000; To amend By-law No. 99 of 1995, as amended, being a By-law to appoint Municipal By-law Enforcement Officers as Peace Officers (Merrill Cutts, Deputy City Clerk, ext. 4103).
By-law No. 68 of 2000; To amend the General Purposes Tax Requirement for the City's purposes for the year 2000 (Helen Collier, Manager, Budgets, ext. 4113).
By-law No. 69 of 2000; To reduce 2000 Tax Rates for Community Reinvestment Fund funding (Helen Collier, Manager, Budgets, ext. 4113).
By-law No. 70 of 2000; To dedicate the road widening described as Part of Lots 24 and 25, Concession 2, Ottawa Front as a public highway to form part of Star Top Road (Angela Gatto, Legal Clerk, ext. 4107).
13. OTHER MOTIONS AND BY-LAWS
14. NOTICES OF MOTION
15. RECONSIDERATION
16. INQUIRIES & ANSWERS
17. CONFIRMATION BY-LAW
A. By-law No. 71 of 2000; To confirm the proceedings of Council.
18. ADJOURNMENT